Introducing the New
Avanset VCE Exam Simulators
VCE Exam Simulator BASIC
Experience IT certification exams in the course of your preparation: all question types, 100% identical experience
VCE Exam Simulator PRO
Official software to create & edit VCE practice exams.
Get Started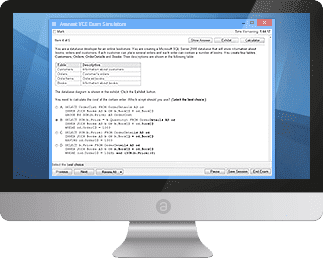 VCE Exam Simulator
for Mac
Play VCE exams on your Mac and enjoy smooth learning experience.
Learn more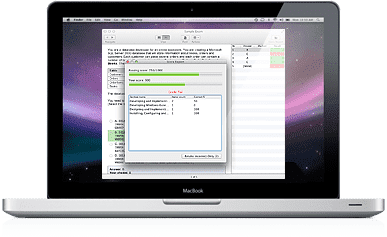 VCE Exam Simulator
for Mobile
Practice for IT certification exams on your mobile device. Get VCE software for Android or iOS.
Learn more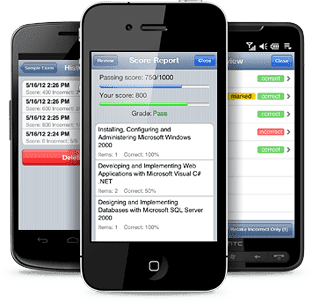 VCE Exam Simulator
Work with VCE files on your desktop: benefit from various question types, file importing, printing & more.

VCE Player for Mac
Desktop version of Manager for Mac

VCE Mobile
VCE Exam Simulator for mobile: available for iOS and Android
VCE Certification Exam Preparation: VCE Dumps, VCE Test Engine and VCE Exam Simulator Software
VCE technology and VCE software are some of the most popular tools for exam preparation. They enable smooth interactive exams that fully simulate the testing environment of IT certification exams or any other standardized computer-based tests.
VCE Dumps
VCE Dumps are vce files, interactive exam files the content of which resembles questions and answers seen on real IT certification exams. VCE dumps are becoming increasingly popular for IT certification exam preparation.
VCE Test Engine
Developed by Avanset, VCE Test Engine allows users to experience an interactive exam environment. This way, users get to learn information in a fun and dynamic mode while mentally preparing for computer-based exam environment.
VCE Software
VCE Software, currently known as VCE Exam Simulator, is sold exclusively by Avanset. VCE Exam Simulator comes in 2 options: VCE Exam Simulator BASIC and VCE Exam Simulator PRO, to best suit users' needs.
VCE stands for Visual Certification Exam. This technology enables various interactive exams, which users can create, edit or take anytime, anywhere. VCE file format caters to interactive exam. Every time you see a .vce file, you know that you've got an exam file in front of you.
VCE files that contain real exam questions and answers are frequently shared by exam candidates. Although this practice is most popular for IT certification exams, it is also used in other areas. Such VCE files that contain real exam content are called VCE dumps. VCE dumps can come from various sources, including online file sharing platforms, or they are shared personally by users. VCE dumps can be created by using VCE Designer software, which is included in VCE Exam Simulator PRO kit.
Although VCE software was is most popular among computer science students and IT professionals who prepare to take their certification exams, it becomes increasingly popular with users from other industries. From HR professionals who need to conduct on-the-job testing of their staff and potential candidates to high school students in need of a better way to memorize things, VCE software brings a variety of solutions.
Find Out How You Can Use VCE Certification Exams
Free VCE Files
| Name | Exam | Posted |
| --- | --- | --- |
| Microsoft.SC-900.Braindumps.v2023-11-15.44q.vce | SC-900 | Nov 15, 2023 |
| Microsoft.AZ-500.Examlabs.v2023-11-05.159q.vce | AZ-500 | Nov 05, 2023 |
| HP.HPE6-A82.Realtests.v2023-07-06.28q.vce | HPE6-A82 | Jul 06, 2023 |
| Microsoft.AI-900.Selftesttraining.v2023-07-03.61q.vce | AI-900 | Jul 03, 2023 |
| HP.HPE6-A72.Pass4sureexam.v2023-06-17.51q.vce | HPE6-A72 | Jun 17, 2023 |
| Dell.DES-6322.Exam-labs.v2023-05-26.25q.vce | DES-6322 | May 26, 2023 |
| SAP.P-C4HCD-1905.Prep4sure.v2023-05-20.36q.vce | P_C4HCD_1905 | May 20, 2023 |
| IBM.C1000-018.Certkey.v2023-05-15.26q.vce | C1000-018 | May 15, 2023 |
| Salesforce.Certified-Platform-App-Builder.Test-inside.v2023-05-09.257q.vce | Certified Platform App Builder | May 09, 2023 |
| Amazon.AWS-Certified-Data-Analytics-Specialty.Real-exams.v2023-04-01.68q.vce | AWS Certified Data Analytics - Specialty | Apr 01, 2023 |
| Citrix.1Y0-312.Pass4sures.v2023-03-16.67q.vce | 1Y0-312 | Mar 16, 2023 |
| Microsoft.PL-100.Test-king.v2023-03-11.78q.vce | PL-100 | Mar 11, 2023 |
| Checkpoint.156-585.Pass4sure.v2023-01-12.32q.vce | 156-585 | Jan 12, 2023 |
| ECCouncil.312-50v11.Testkings.v2023-01-12.175q.vce | 312-50v11 | Jan 12, 2023 |
| Isaca.CISA.Examscollection.v2023-01-12.1975q.vce | CISA | Jan 12, 2023 |
| Fortinet.NSE4-FGT-6-4.Train4sure.v2023-01-12.59q.vce | NSE4_FGT-6.4 | Jan 12, 2023 |
| Oracle.1z0-1084-21.Prep4sure.v2023-01-11.24q.vce | 1z0-1084-21 | Jan 11, 2023 |
| Microsoft.98-366.Pass4sures.v2023-01-11.114q.vce | 98-366 | Jan 11, 2023 |
| Amazon.AWS-Certified-SysOps-Administrator-Associate.Test-king.v2023-01-11.28q.vce | AWS Certified SysOps Administrator - Associate | Jan 11, 2023 |
| CompTIA.CAS-004.Pass4sure.v2023-01-11.60q.vce | CAS-004 | Jan 11, 2023 |
| | | |
| --- | --- | --- |
| Salesforce.Certified-Platform-Developer-II.Passcertification.v2023-01-11.156q.vce | Certified Platform Developer II | Jan 11, 2023 |
| IAPP.CIPP-US.Braindumps.v2023-01-11.86q.vce | CIPP-US | Jan 11, 2023 |
| Microsoft.MD-101.Testking.v2023-01-11.143q.vce | MD-101 | Jan 11, 2023 |
| Microsoft.MS-600.Certkey.v2023-01-11.47q.vce | MS-600 | Jan 11, 2023 |
| Fortinet.NSE6-FWF-6-4.Examsnap.v2023-01-11.12q.vce | NSE6_FWF-6.4 | Jan 11, 2023 |
| NetSuite.SuiteFoundation-Certification-Exam.Prep4sure.v2023-01-11.27q.vce | SuiteFoundation Certification Exam | Jan 11, 2023 |
| Juniper.JN0-1302.Test4prep.v2023-01-10.28q.vce | JN0-1302 | Jan 10, 2023 |
| Network Appliance.NS0-003.Prep4sure.v2023-01-10.24q.vce | NS0-003 | Jan 10, 2023 |
| Microsoft.MS-203.Examscollection.v2023-01-09.103q.vce | MS-203 | Jan 09, 2023 |
| Microsoft.SC-300.Exam-labs.v2023-01-09.48q.vce | SC-300 | Jan 09, 2023 |
| CompTIA.SY0-601.Realtests.v2023-01-09.106q.vce | SY0-601 | Jan 09, 2023 |
| CompTIA.220-1001.Actualtests.v2023-01-08.267q.vce | 220-1001 | Jan 08, 2023 |
| Microsoft.AZ-104.Examsnap.v2023-01-08.153q.vce | AZ-104 | Jan 08, 2023 |
| Microsoft.AZ-500.Testking.v2023-01-08.145q.vce | AZ-500 | Jan 08, 2023 |
| Microsoft.PL-400.Examscollection.v2023-01-08.76q.vce | PL-400 | Jan 08, 2023 |
| Dell.DES-4421.Test-king.v2023-01-07.28q.vce | DES-4421 | Jan 07, 2023 |
| SAP.E-HANAAW-17.Braindumps.v2023-01-07.16q.vce | E_HANAAW_17 | Jan 07, 2023 |
| Microsoft.MS-100.Pass4sure.v2023-01-07.176q.vce | MS-100 | Jan 07, 2023 |
| PMI.PMI-PBA.Examscollection.v2023-01-07.104q.vce | PMI-PBA | Jan 07, 2023 |
| Microsoft.SC-200.Actualtests.v2023-01-07.49q.vce | SC-200 | Jan 07, 2023 |
| | | |
| --- | --- | --- |
| Microsoft.AZ-900.Examcollection.v2023-01-06.145q.vce | AZ-900 | Jan 06, 2023 |
| IIBA.CBAP.Certkiller.v2023-01-06.286q.vce | CBAP | Jan 06, 2023 |
| Juniper.JN0-211.Passit4sure.v2023-01-06.28q.vce | JN0-211 | Jan 06, 2023 |
| Microsoft.MS-700.Test-king.v2023-01-06.84q.vce | MS-700 | Jan 06, 2023 |
| Python Institute.PCAP.Prep4sure.v2023-01-06.43q.vce | PCAP | Jan 06, 2023 |
| PRINCE2.PRINCE2-Agile-Foundation.Examlabs.v2023-01-06.21q.vce | PRINCE2 Agile Foundation | Jan 06, 2023 |
| Checkpoint.156-315-80.Test-king.v2023-01-05.275q.vce | 156-315.80 | Jan 05, 2023 |
| SAP.C-SECAUTH-20.Exam-labs.v2023-01-05.34q.vce | C_SECAUTH_20 | Jan 05, 2023 |
| ITIL.ITILFND-V4.Test4prep.v2023-01-05.144q.vce | ITILFND V4 | Jan 05, 2023 |
| Microsoft.MS-500.Real-exams.v2023-01-05.110q.vce | MS-500 | Jan 05, 2023 |
| Microsoft.MS-900.Passcertification.v2023-01-05.120q.vce | MS-900 | Jan 05, 2023 |
| Microsoft.PL-200.Test4prep.v2023-01-05.56q.vce | PL-200 | Jan 05, 2023 |
| Microsoft.98-349.Examsnap.v2023-01-04.132q.vce | 98-349 | Jan 04, 2023 |
| Microsoft.98-375.Examcollection.v2023-01-04.62q.vce | 98-375 | Jan 04, 2023 |
| Google.Associate-Cloud-Engineer.Test-king.v2023-01-04.106q.vce | Associate Cloud Engineer | Jan 04, 2023 |
| Microsoft.AZ-140.Prep4sure.v2023-01-04.38q.vce | AZ-140 | Jan 04, 2023 |
| Microsoft.MB-210.Certkey.v2023-01-04.104q.vce | MB-210 | Jan 04, 2023 |
| Mulesoft.MCD-Level-1.Passguide.v2023-01-03.59q.vce | MCD - Level 1 | Jan 03, 2023 |
| CompTIA.PK0-004.Examscollection.v2023-01-03.334q.vce | PK0-004 | Jan 03, 2023 |
| Microsoft.PL-900.Test-king.v2023-01-03.86q.vce | PL-900 | Jan 03, 2023 |
| | | |
| --- | --- | --- |
| Nokia.4A0-100.Testkings.v2023-01-02.208q.vce | 4A0-100 | Jan 02, 2023 |
| Amazon.AWS-Certified-Cloud-Practitioner.Real-exams.v2023-01-02.427q.vce | AWS Certified Cloud Practitioner | Jan 02, 2023 |
| Salesforce.Certified-Platform-App-Builder.Passit4sure.v2023-01-02.246q.vce | Certified Platform App Builder | Jan 02, 2023 |
| CompTIA.FC0-U61.Testking.v2023-01-02.96q.vce | FC0-U61 | Jan 02, 2023 |
| Splunk.SPLK-3001.Passguide.v2023-01-02.45q.vce | SPLK-3001 | Jan 02, 2023 |
| CompTIA.220-1002.Passcertification.v2023-01-01.248q.vce | 220-1002 | Jan 01, 2023 |
| Microsoft.MB-330.Examsnap.v2023-01-01.110q.vce | MB-330 | Jan 01, 2023 |
| Network Appliance.NS0-175.Testking.v2023-01-01.27q.vce | NS0-175 | Jan 01, 2023 |
| Microsoft.SC-900.Pass4sures.v2023-01-01.28q.vce | SC-900 | Jan 01, 2023 |
| Microsoft.AZ-700.Examlabs.v2022-12-31.29q.vce | AZ-700 | Dec 31, 2022 |
| Dell.DES-DD33.Passguide.v2022-12-31.23q.vce | DES-DD33 | Dec 31, 2022 |
| Microsoft.MD-100.Passcertification.v2022-12-31.145q.vce | MD-100 | Dec 31, 2022 |
| Google.Professional-Cloud-DevOps-Engineer.Selftestengine.v2022-12-31.28q.vce | Professional Cloud DevOps Engineer | Dec 31, 2022 |
| PMI.CAPM.Prep4sure.v2022-12-30.688q.vce | CAPM | Dec 30, 2022 |
| ServiceNow.CIS-SAM.Testking.v2022-12-30.47q.vce | CIS-SAM | Dec 30, 2022 |
| CompTIA.CV0-003.Examsnap.v2022-12-30.44q.vce | CV0-003 | Dec 30, 2022 |
| CompTIA.N10-008.Certkey.v2022-12-30.39q.vce | N10-008 | Dec 30, 2022 |
| Juniper.JN0-412.Actualtests.v2022-12-29.34q.vce | JN0-412 | Dec 29, 2022 |
| Microsoft.MB-300.Test-king.v2022-12-29.128q.vce | MB-300 | Dec 29, 2022 |
| Microsoft.MB-340.Testking.v2022-12-29.26q.vce | MB-340 | Dec 29, 2022 |